Hacking firm NSO battles abuse claims with PR and Google ads
Details

Fast Company
Since it began selling its powerful smartphone spyware to governments in 2011, the Israeli cyber-intelligence firm NSO Group has cultivated an air of strict secrecy befitting its image as a haven for
In recent months, however, NSO has stepped out of the shadows to defend its work, with a bold publicity campaign that includes on-camera interviews, a new website, and Google ads meant to populate web searches related to alleged abuses of the company's spyware, known as Pegasus.
Several weeks ago, John Scott-Railton, a senior researcher at digital watchdog Citizen Lab, noticed that searching for "NSO Group" or terms like "NSO Group abuses" returned results with a prominent ad for NSO Group. The ad reads, "NSO Group | Preventing Terror and Crime," and the website it links to touts products for helping to monitor "terrorists, drug traffickers, pedophiles." The ad doesn't mention the members of civil society–journalists, lawyers, activists and others–people whom Citizen Lab says have also been targeted by the spyware.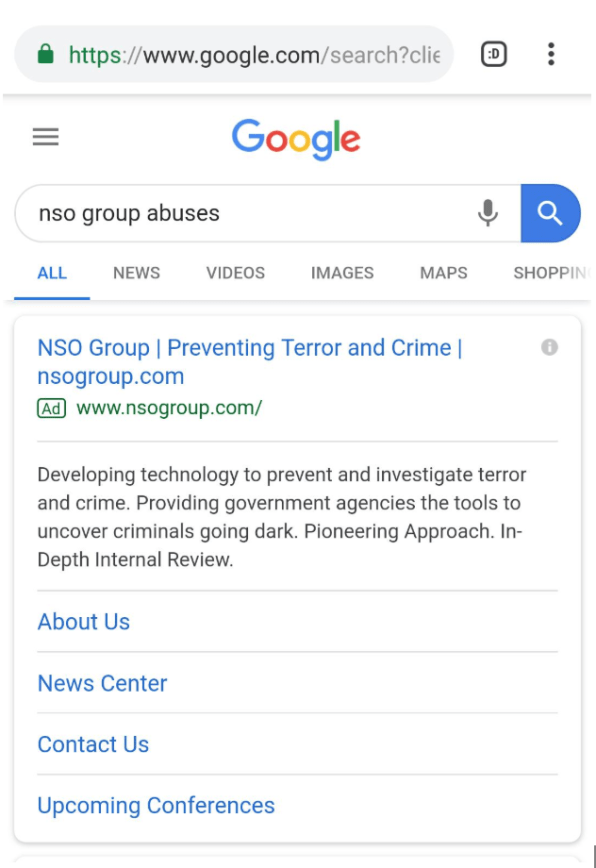 The ad also appeared when searching for "NSO Group Omar Abdulaziz." Abdulaziz, a Saudi dissident whose phone was targeted by Pegasus, has claimed in a lawsuit against NSO that the spyware was used to surveil his friend, the journalist Jamal Khashoggi, before he was assassinated last year by government agents. Abdulaziz's is the third legal claim brought by people who have been targeted by NSO's cyberweapon.
Notably, the NSO ads do not appear in Google searches for "NSO Group Jamal Khashoggi."
An NSO Group spokesperson told Fast Company that the ad campaign was tied to its new website.
"Like many companies, NSO purchased Google Search ads as part of our new website launch," the spokesperson wrote in an email. "The ads are displayed to users who might want to learn more about NSO and our work helping intelligence and law enforcement agencies prevent and investigate crime and terror to save lives."